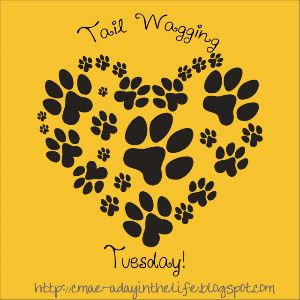 Today's topic at CMae's Tail Wagging Tuesday is favorite toy. Well, Zo's favorite toy is definitely her Foxy:
Foxy is Zoey's baby. She can not go to bed at night without her Foxy. And she always knows where foxy is. Like if the fox is under the covers on the bed, Zo will crawl under the covers to find him. If you say "Zoey, were's Foxy?" she look around until she finds him. It's funny because my parents gave Zo foxy for Christmas, and their dog has the full-sized version that she loves so Zoey and Lexi both have their foxes that they adore. Anyways, here are some pix of my Peanut and her "baby"
P.S. We have a house guest this week. Zoey's BFF Bailey is staying with us for a few days. Yes, they're cute together, and yes, they have a blast, but omg I never wanna have two dogs at the same time! Kudos to all of you who manage but it's nuts. Part of it might be because they're getting used to each other but the two leashes, play fighting, chasing each other, both trying to jump on me thing is exhausting! Not to mention at 5 am when Bailey slowly crept up the bed (on my body) until she got to my head and then tried to eat my face... yeah, not a pleasant way to start the day. I'm used to my little Peanut who is so not a morning pup, and I like it!