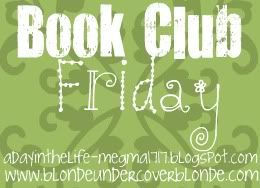 \
Today I am linking up with Megan and Heather for their book club. It is funny that I came across this Link Up because I was just thinking yesterday that I needed to update my blog with the books I read this week. If nothing else being mopey and depressed is good for the book shelf :)
So here is what I read this week (and yes I know it's a lot of books for one week... no I'm not really ashamed of it.
This is one of those quick, easy chick-reads that are oh-so satisfying. I had read this one before, but I want to go see the movie (hint hint Drew) so I wanted to reread it.
While I was at the library getting Something Borrowed I decided to grab a couple of Emily Giffin's books because I love her writing. This one was even better than Something Borrowed and I really enjoyed it.
Technically I read this book to my students, but hey, it's still reading. It's classic, it's cute and it gave us an excuse to watch the movie... which is a lot sketcher than I remembered it. We are doing a media study right now so we are looking at why books are changed so much when they become films... my kids are really enjoying it and it's actually making them think (which is tough to do when you are watching a movie, on a rainy day week, at the end of the school year.
I LOVED the first two books in the Millennium Trilogy, so I was super psyched to start this one... alas, it was a bit of a disappointment. Still very well written, and I still loved the characters that have been in all three books, but this one was lacking. It wasn't as mind-bending nor as addictive as the other two. The first two sucked you in with a combination of writing style and plot development... this one just felt a little stale, although it did a great job of bringing the series to a close. While reading this I also discovered that the author died shortly after delivering the three manuscripts which was disappointing because I was looking forward to more by this author.
So that was my week in books, I am looking forward to reading the other blogs linked up this week to get some new book ideas!