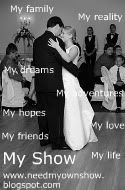 I am so proud of myself! I created my own blog button :) So feel free to grab it and add it to your page (no really, go ahead!)
In other news, yesterday was amazingness. The weather cooperated (well, mostly) so we were able to go to our bonfire! If you saw yesterday, we knew going into this that there was quite a bit to burn. My friend Amy calls her husband "Chainsaw Charlie" (his real name is Brian) because he loves to cut down trees and play with his chainsaw. Well, apparently Brian was a little over ambitious because OhMyGa (anyone remember Jessica Simpson saying this? Yeah, I loves it) did we ever have wood to burn. Not only that, but the boys apparently felt that the fire wasn't catching enough on it's own... so they decided to "oil the fire", yeah, I bet you can all guess how that went. So here are some pix of our night:
The pile (you can't tell, but it extends like 20 feet back.
Zo and her sweater. Hey, we didn't want the pup to be cold (and come on, how cute is that?)
No joke, 20 foot flames
Enjoying the flames...oh and he was prepared in case the world ended and zombies took over, notice the toy gun and ski goggles... that would protect us :)
Sorry for the blurriness, Chainsaw Charlie was using his tractor to add fuel to the fire. It was moving, it was misting out, but I felt I just had to share this.
Again, dark, misty, and moving, but oh-so-funny