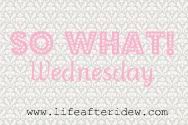 This week I am linking up with So What Wednesday over at Life After I Dew. No, I'm not giving up on What I'm Loving Wednesdays, but this is something different. And? It let's me laugh at myself

rather than waiting for people to laugh at me.
So this week I am saying, So what if...
At 8th grade graduation an older gentleman thought I was his grandson's girlfriend...rather than his teacher. Some day I will look back and miss the days I could pass for 13

Along those same lines, on yesterday's 8th grade trip to an amusement park? You guessed it, the bus driver wouldn't let me on because we needed to "wait for a grown-up to load the busses"... thanks dude

I went to the gym last Friday, even though my hip wasn't "better" yet... it felt good to burn some calories

so I could have cake later.

I took a 3 hour nap on Saturday afternoon rather than cleaning the house (can you blame me?)

on that same Saturday I didn't shower until 10 hours after my Zumba class... yeah, I was that smelly kid all day long

and I kinda liked it.

Grades close at midnight tonight... and I still have 20 projects, 9 essays and 25 make-up assignments to grade... oh boy!

I've teared up about 30 times a day so far this week, hey, my whole life

okay, just the career, but it feels like my whole life

has been turned upside down, pretty sure that justifies some tears here
What are you saying "so what" to this week? Link up with Shannon to share!