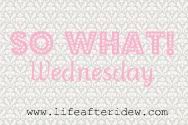 I'm linking up again with Life After I "Dew" for So What Wednesday.
This week I am saying "so what" if:
I'm more upset about losing my school laptop than I am about really being done school. Hello, Facebook takes forever to load on this

piece of crap

wonderful laptop my husband has
I get really annoyed when people ask what I'm doing since I have the whole summer off. Um, not so much when you've got a full time summer job, but thanks for assuming I'm just gonna be a bum.
All I want to do

all the time

this week is sit and read books/watch mindless television, so sorry that I may actually be the bum I claimed I wasn't before.
The teenage cashier at Hannaford's told us we were "getting all the good stuff" as we checked out with pizza dough, gelato, a whoopie pie and a piece of cake, okay, so we're fatties, so what?
What are you saying "so what?" to this week?