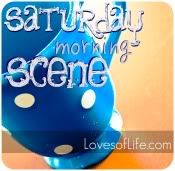 I'm linking up with Katie to share what my life looks like this morning.
This morning has been rather rough on my body:


So my first couple of wounds were attained via a giant bouncy slide. I took Miss Mo and G-man to The Bounce Zone yesterday which is this sweet indoor inflatable playground. Now, I'll admit, the signs did say the inflatables for for kids 2-12... and I may be twice the age of the maximum... but who could resist? Especially when there is no one else there and no one watching. I rocked out the bouncy cources. Unfortunatly I have several scrapes and bumps from it... totally worth it!


Then I've got this bruise. It was gained Tuesday when I took G-man and Miss Mo to my in-laws pool. G-man was a little scared when I made him swim on his own... so he kicked me (he claims by accident). Crazy how strong a freaking out 5-year old is.


I've also got myself yet another sunburn. Yes, this picture is from my last burn. My new burn is on my belly, and while I felt confident enough to wear a bikini for the first time in two years (yay for the gym! But that does explain why I burnt. That virgin skin hasn't been exposed to sunlight in 730-ish days) but I am not confident enough to bare my midrif all over the internet. Just know that I've got some hardcore pink belly going down and that my bra digs into it all day... uber painful!
Finally, I've got a few wounds that just wont show up in pictures. I've got a scratch on my thigh from Miss Mo's dog Daisy. Daisy Duke (no joke, her "full" name) gets really excited to see me in the morning, and the other day she got me just right and tore through some skin. Then i've got numerous bug bites due to the fact that I live in Maine. Though we may not have huge bugs or lethal insects, we are the headquarters of mosquitoes and black flies... and there is no avoiding their mouths.
My poor body has been through a lot this week, but most of my wounds were totally worth it, and if nothing else, they gave me something different to post about this morning. Unfortuantly, Drew has no pity for my pain, and is demanding that I head outside to help him paint the house (boo), so off I go for another day of torture house work.