Wow, it's been awhile since I've linked up with Shannon, but here goes: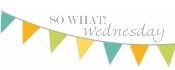 This week I am saying so what if...
My favorite part of Zumba is watching others look like fools. Especially this one girl, I call her "crazy" cause damn this girl dances to her own beat. Literally... I don't know what instructor she's watching but she is flapping all over the place while she sings along...loudly

I probably look like a fool too, I'm not watching myself!

I love my 5th graders because they need me so much... it's nice being needed

I wrote a post yesterday explaining how my refrigerator makes me look hot
I'm always tired, like exhausted tired, yet I stay up later than I should every night watching tv with the hubs... clearly I have my priorities in order here!

If my puppy woke up with a faux-hawk yesterday morning, and I spent about 10 minutes trying to get a good picture of it:
Clearly that was wasted 10 minutes...