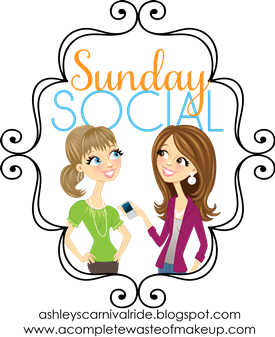 How did you come up with your blog name?
I'm an egotistical self-centered.... yeah. It just seemed appropriate at the time when I was planning on it being all about me. Now, with baby Fynn on the way... I've been debating lately about whether I should change my name. I wouldn't want to change the URL, cause then I would lose all my lovely followers... any suggestions for a name change?
What is your favorite thing about blogging?
That no one can shut me up. Granted, they can just not read it, but knowing I can write what I want when I want feels good. I love being able to vent and share what is going on in my life. I have also met some amazing people through blogging. I love the connections I've been able to meet.
What is one thing you have discovered because of blogging and now can't live without?
Pinterest. After seeing some of the cool things other bloggers have done on Pinterest I decided to join, now I love it. Right now I'm obsessed with finding newborn photo ideas. Poor Fynn is going to have her picture taken soooo many times when she's tiny
Facebook or Twitter? and why?
I use both, but I don't like it up with my blog. I don't quite feel comfortable with everyone on Facebook being able to read my blog... which is weird, since I'm fine with complete strangers checking it out... yeah, I'm weird.
If one celeb read your blog who would you want it to be?
If anyone remotely famous and/or influential read this thing... that would be super cool. I would love for Ellen to become a follower and then have me on the show and give me a ton of cool stuff. That would be sweet.
What is something you want people to know about your blog?
That it's me. I may not include everything in my life on the blog, mostly because that would offend some of my friends/family, but what I do write about I am honest about and open. I guess what I mean is that if you know me in real life, and then read my blog (or the other way around) you would totally be able to tell it's me.