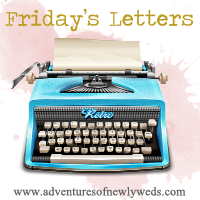 Dear random commentor from last week's letter,
FYI, Fynn's a girl, short for Fynnleigh... and no, I did not name her after the guy in GLEE. Yeah, that would be hilarious.
Sincerely,
Random
Dear Twitter and Facebook friends,
Please stop ruining things for me! I tape shows and watch them later... so please stop telling who won gold, who was voted out or what the big twist is. You always ruin it for me!
Thanks,
Guess I have to avoid social media
Dear readers,
I love you, now buy some ads, or just do a free ad swap.
Sincerely,
Diapers are expensive yo!
Dear Oreos,
Stop being so dang tasty. I need to stop eating like 6 of you a day, but you're making it so hard!

Thanks,
Want my pre-baby body back without doing the work