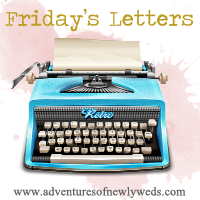 Dear Baby Girl,
Thank you! After 4 nights of sleeping for only 30-40 minutes at a time, I was starting to lose hope. Thank you so much for those 5 hours last night.
Love,
Your still tired, but better rested Mama
Dear Neighbor,

Honking your horn at 7:15 every morning? Not cool. I get it, you're leaving for school in your oh-so-cool dented car, but come on, respect your neighbors. Especially the one with the 2 month old baby.
Thanks,
I'm annoyed
Dear woman at my breastfeeding support group,
Your kid is obnoxious. The high pitched squeal makes us all cringe. Please, either make her stop, or stop coming to the group. That may sound mean, but she's so loud we can't hear each other...and she makes the other babies cry.
Still cringing from the thought of it
Dear Ben & Jerrys
Really? An ice cream with salty caramel and chocolate-covered potato chips? While it sounds gross, it's amazingly delicious. Why would you do this to me?
Regretfully,
I still have 13
(and after eating that, probably more)
pounds of baby weight to lose.
Since I have to do all the feeding of the baby, wouldn't it make sense that you have to do all the diaper changing? Makes sense to me.