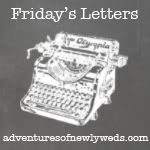 Dear Fynn,
This teething thing? No bueno. Between your fussing and failing to sleep, I'm so over it. Seriously.
Love,
Why aren't babies just born with teeth?
Dear blog,
Please write yourself. I have all these posts I need/want to write and no time to write it all. Actually, maybe this letter should be written to a certain little person who demands so much of my attention.
Sincerely,
Need to do better blogging
Actually no, at some point I will not realize that "doing all this" (referring to pumping at work)"isn't actually worth it". It's for my daughter. It's for her health. Totally worth it.
Sorry you don't like covering for me when I go to pump
Dear November,
How are you here? No seriously... where did the past couple of months go?

~I guessed I missed August/September/October

Thanks for all the Halloween candy yesterday. I love that you thought of me while trick-or-treating.
Your chocolate-buzzed teacher