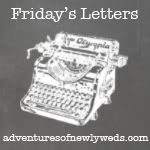 I love you. There's just something beautiful about it being 73 in the house, while it's 23 outside.
Nice and toasty here
Dear 4-day work weeks,
Why must you always disappoint me by feeling longer than a 5 day week? I always look forward to you, and I always end up hating it.
Thanks (but really no thanks),
So disappointing
Thank you for the 5 days in a row you allow me to have with my sweet baby girl. I guess partial credit should go to my school district.
Love time off (who doesn't)
Dear Thursday,
You sucked this week. Between forgetting Fynn's bottles at home, leaking in front of my whole class, and your not being Friday, you just were awful yesterday
.
Thanks for finally being over
Shamelessly plugging my giveaway :)