It's Wednesday, "hump day" and I'm linking up to say "so what?"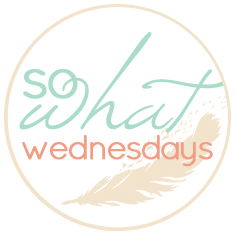 If I'm liking my summer job mostly because it's only 4 days a week for half days... oh yeah, and it only runs for 4 weeks :)
If I kinda like it when Drew's busy on a "project" because it means I get uninterrupted time at night to work on the blog and not feel guilty that I'm ignoring him or hogging the computer. (FYI the current one is non-commercial lobstering. Not kidding. He recently got his license and bought traps and all the other stuff he needs to lobster).
If I was all excited about watching Lost... until I got to season 5, where it just got weird. Sadly, I couldn't just stop watching at this point since I was invested in the characters. So, I'm continuing to watch even though I'm not really enjoying it as much anymore.
If my organizational system for blog stuff kinda sucks. Currently it's a blank calendar with note scribbled everywhere and the notepad on my iPad. Clearly it's not working very well, but I can't figure out another method that I like
If I'm obsessed with Big Brother. I greatly dislike several of the people on it, but I love, love, love this show and all the drama that goes along with it
If I've spent forever this week working on my new blog series... and I'm really scared it's going to be a flop.