The school year ends on the 17th, but during the month of May I surpassed my goal of reading 30 books during the school year. Here's what I've been reading this month:
30. The Selection by Keira Cass
I love young adult fiction, especially the dystopian trilogies that are becoming big lately. I love the combination of rebellion and romance. The Selection is the first in this series and follows America Singer. America joins The Selection, which is basically The Bachelor only the bachelor is a prince and the winner gets a husband AND a crown. It starts with 34 girls, and gets narrowed down from there as Maxim gets to know the girls. America is torn between seeking to win the hand of Prince Maxim, and her feelings for her recently ex-secret-boyfriend Aspen. I loved the character of America. She felt very real and had a depth of personality that can be missing in young adult lit.
31. The Elite by Keira Cass
Of course, once I've read the first book, I had to read the second. This is why I love trilogies. I tend to get attached to characters and want to continue reading their story. After falling in love with America in book 1, I wanted to see what happened. In The Elite, Maxim has narrowed down the girls to the final 6, and America is still a contender. Maxim is in love with America, but America is still torn between her love for Maxim, and her love for Aspen. However, when Maxim begins to fall for one of the other girls, America becomes more jealous then she thought possible. On top of her feelings, America is also worried about her ability to be a queen. I enjoyed this book just as much, if not more than The Selection. Right now I'm on the waiting list at the library to read the final book in the series; The One.
32. Claim to Fame by Marageret Peterson Haddix
If you've never read any of Haddix's books, you're really missing out. I haven't found a single one of her books that I didn't enjoy. My favorites are Running out of Time and the Among the Hidden series. Claim to Fame is about Lindsay Scott. A former child star who has a secret ability; no matter where in the world someone is, if they talk about her, Lindsay can hear it. Obviously, being in the spotlight led to a LOT of people talking about her (some not so nicely). Lindsay has been dealing with this for years, but luckily (or is it luck?) her father bought her a house in a small town that some how blocks the ability, as long as Lindsay stays inside. I loved the first 90% of this book, but I didn't love the ending. I felt like the end was rushed and there was a lot left up in the air. I'd like to see a sequel to this book to finish things up.
33. The Best of Me by Nicholas Sparks
I'm a sucker for a Nicholas Sparks book, but this one really got to me. Dawson and Amanda dated and fell in love in high school. When an accident landed Dawson in jail, and Amanda went off to college, the two lost touch. 25 years later they're brought back together with the passing of a close friend. As they reconnect, and realize that they never stopped loving each other, fate is determined to keep them apart. The end of this book, full of unexpected twists and turns left in a whirlwind of emotions. You know a book is well written when you can't stop thinking about it a week or two later.
34. Twisted by Laurie Halse Anderson
Twisted is another book that left me thinking about it for weeks after. This took a completely different turn then I had expected it to. Tyler used to be the guy no one noticed. Gawky, skinny, and kind of a nerd. After earning community service hours for painting graffiti on the school, Tyler has gained the notice of none other then Bethany Milbury, the most popular girl in school. Between trying to appease Bethany, dealing with a dysfunctional family, and trying to stay on the right side of the law, Tyler gets has a lot on his plate, and not everything goes according to play. I started out reading this book and not being sure how I felt about Tyler. He was a very unlikable character at first, but by the end I was really rooting for him.
35. Matched by Ally Condie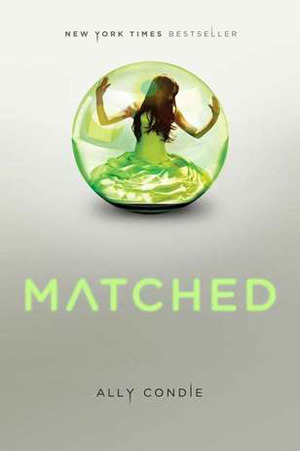 Like The Selection, Matched is the first in another young adult dystopian trilogy series. In this, "The Society" determines everything about your life based on data and probability. One of the biggest events in a young society member's life is the Matching ceremony where you get to see who your match is going to be. Cassia is beyond excited to meet her match, but ends up discovering that Xander, her best friend, is actually her match. Things get complicated though when her match microcard shows Ky Markham as her match for just a few seconds. Ky is also a long-time friend. Now that Cassia has noticed him, she doesn't know where to go... this leads her to question other decisions of The Society. I like the combination of love triangle and rebellion in this book, it's like a less deadly version of The Hunger Games.
36. Crossed by Ally Condie
Like I said, I like sequels. Crossed is no different. This follows the second part of Cassia's story as she continues to struggle with her feelings for both Xander and Ky. As Cassie gets closer and closer to finding The Rising (the rebellion) she also has to confront her feelings and decide how far she wants to go to rebel against the society. I didn't like this book as much as the first, but I still want to read the third book; Reached.
37.
Bringing Elizabeth Home: A Journey of Faith and Hope by Ed and Lois Smart
I wasn't really a fan of this book. I loved Elizabeth Smart's book that I read a few months ago, because it was fascinating to see her strength and determination through all that she went through when she was abducted at the age of 14 and held captive for 9 months. However, this book was not that interesting to read. It was VERY repetitive and I felt like it just cycled around and around the story. I got very frustrated with it, and ended up not reading the last couple of chapters because I wasn't enjoying it. Elizabeth's account of her story was much more compelling of a read.
I'm not including them in my list, but I also read about 20 Babysitters Club Books in May. Remember those? I found a ton in my classroom library as I was sorting through and removing old books that no one reads. While I loved the series as a kid, none of my students have touched them in the 5 years I've been teaching, so I donated them to a local library book sale. Before donating them, I just had to read them again. It was a great throwback to my childhood!
Now that I've reached my 30 in the school year goal, I need to make my summer goal. I think for June-August, my goal is going to be to read 30 books. I'm home with Fynn for the summer, so I know I'll have more time to read then I did during the school year... I'm just hoping I haven't given myself TOO much of a goal!